More and more construction sites choose to use fine stone concrete pumps to help their construction. Doing so can not only solve the difficult problem of engineering funds, but also speed up the construction progress. When a thing is popular, there will be many competitors, so many customers do not know which one is good for building fine stone concrete pumps, and who should work with them is correct. Seeing is believing, only customers who have really experienced the construction experience on the spot can decide which one is better. Of course, it is necessary to have a certain grasp of which accessories are used for the fine stone pump, so as to facilitate the construction and normal maintenance in the later stage.
Construction site of fine stone pump for construction
No matter which manufacturer's fine stone pump, the accessories used include oil pump, motor, material cylinder, piston, solenoid valve, material cylinder, oil cylinder, oil pump, piston, S tube, eye plate, large set and small set. These are necessary parts for fine stone pumps and mortar pumps, and the existence of each part is reasonable. Customers should remember that these accessories may not be able to be visually distinguished from the appearance of the equipment. What is the quality? However, it is still necessary to have a good understanding, and to master it in order to avoid being pitted. Only when it is better to choose a fine stone concrete pump for construction in Nanjing, can we be more sure.
Construction site of fine stone pump for construction
Luke Heavy Industry's Nanjing construction stone pumps use imported accessories. They use 6-way lubrication pumps, coordinated main oil cylinders, and important equipment accessories such as motors. The main oil pump uses imported Kawasaki main oil pumps. An air cooling system is also used to cool the equipment, which is more convenient for construction. The Huade hydraulic valve used in the full hydraulic system of the fine stone pump is a relatively good brand in China. The use of accessories is also an important reason for customers to choose Luke Heavy Industry when they are assessing which fine concrete pump for construction in Nanjing is good.
Construction site of fine stone pump for construction
If you want to know more about Nanjing Fine Stone Concrete Pump, Luke Heavy Industry provides it for free. Luke fine stone pump and mortar fine stone pump hit 40 square meters per hour, convey 150 meters of head, the main motor power is 45KW, not only can be used for building floor pouring floor, ordinary building mortar conveying, but also can pour secondary construction column . Provide customers with a 2-hour response after-sales service, free installation and technical training services.
================================================== ================================================== ======
Repair Manager 15365198506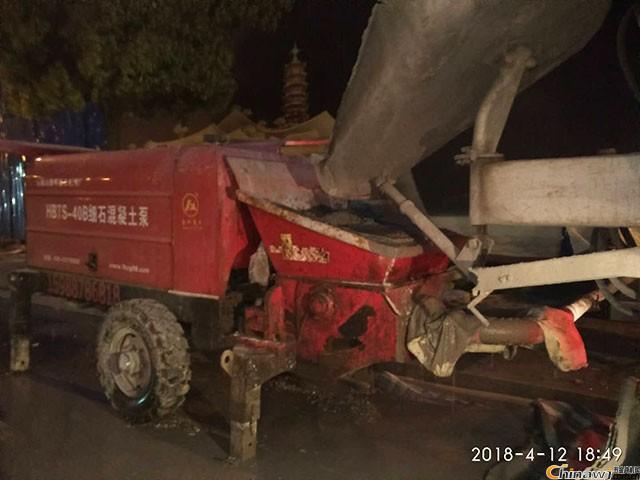 6 Hydrogen Peroxide,Hydrogen Peroxide,Food Grade Hydrogen Peroxide,5 Hydrogen Peroxide
Rucheng Sanxing Electric Chemical Co.,Ltd , https://www.3xchemical.com